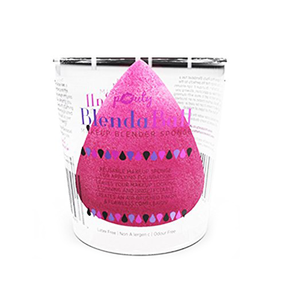 The Miss Pouty BlendaBall has a unique shape and exclusive material available only with Miss Pouty. It ensures impeccable, streak-free application with minimum product waste. Use it with primers, foundations, powders, cream blushes, and any other complexion product.
The BlendaBall features an open cell structure that fills with small amounts of water when wet. This allows the sponge to be 'full' so that the makeup product sits on top of the sponge rather than being absorbed, allowing you to use less product every time. When wet, The BlendaBall doubles in size and becomes even softer, returning to its original size when it air dries.
Wash after use using The BlendaBall and place on top of the storage case to air dry. Once the sponge has dried it will reduce to its original size and drop back into the canister.
Shipping
Free Worldwide Shipping!