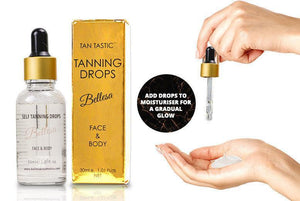 Get a 30ml bottle of self-tanning drops.
Mix with your moisturiser or serum for a golden glow!
Use more drops for a deeper tan.
The perfect addition to your skincare routine.
Can be used on your face or body!
Fake it 'till you make it with this handy bottle of self-tanning drops! Simply mix a couple of drops in with your moisturiser for a subtle bronze glow, adding more if you want a deeper tan. Easy to incorporate into your skincare routine, it's definitely a quicker way to get that sunkissed look! Tantastic! ...